The Huge Opportunity in This Week's Market Sell-off
It's amazing how often the phone rings when you're on a hot streak.
Our good friends at The Oxford Club rang us this week. They wanted us to hop into their studio to discuss the moves behind our latest big wins in the stock market.
We scored gains of 64%… 94%… 133%… and thanks to a big merger announcement this week, our readers saw another peak gain of more than 70%.
And now that Trump has the markets quite confused, we're confident the gains are about to get a whole lot fatter and come a whole lot quicker.
Why?
That's what our former colleagues asked us to share on camera.
Here's what we said.
Modern Trading
It's all thanks to computers.
Just as technology has changed nearly every other aspect of our lives… too many folks are investing today the same way they did 20 years ago.
It's crazy.
Get this.
Machines now make roughly 70% of the trades each day. In fact, J.P. Morgan recently said it believes just 10% of all trades are traditional, "fundamental" trades.
That's nuts.
Computers are in charge. And yet… most folks still invest the old-fashioned way.
br>
Until we made a discovery, we were no different. We entered the financial world working for one of the biggest mutual fund providers on the planet. We were trained to dive into a balance sheet and decipher every number on it.
But our discovery proves there's something else driving the market these days.
We've all heard of algorithms and programmed trades. But few folks have ever bothered to see exactly what effect they're having on the market or individual stocks.
We did.
And the results were stunning… and, as we've shown our followers, quite profitable.
One subscriber wrote us on Wednesday to say, "Got in at $7.99. Sold at $12.94. My math shows a 61% gain. Nice."
Ups… Downs… and Booms
It's all because of a simple mathematical equation that works much the same way as the shock absorbers on your car.
Most of the time, we hardly know they are there. They move around within a range, buffering any minor ups and downs in the road.
But every once in a while, things get out of whack.
We've all felt it. The shock absorber reaches its limit and suddenly sends 2,000 pounds of metal jumping in the opposite direction.
It's the same way with stocks.
Thanks to an army of computers designed to pick up on the market's anomalies, we discovered stocks act no differently from shock absorbers.
Most of the time, they move quietly within a fairly specific range, moving largely with the market's whims. But every once in a while, they run into a pothole… or a speed bump.
The computers catch the anomaly and go on either a buying spree or a selling binge.
Thanks to the magic of math – the same math these computers are using, by the way – we can better predict what will happen each time stocks hit these upper or lower limits.
Putting it into a chart, it looks like this: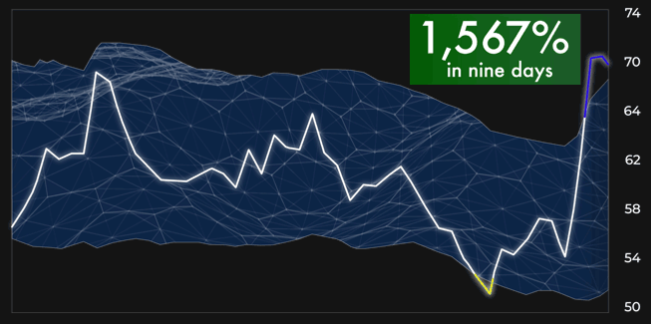 When the stock dips below the lower bound, Wall Street's computerized shock absorbers pick up on the anomaly and start buying like crazy.
The exceptional result can be as high as a 15X gain in nine days.
And it happens all the time. In fact, our research shows that using this system, investors have the potential to lock in an 89% gain every day on average.
But given this week's action, that number may be too low.
That's because our system is lighting up with stocks that were pulled below their lower boundary simply because of the market's big dips this week.
They're likely to rebound quite quickly.
In the meantime, we've put seven of our other favorite stocks into a report for our subscribers.
They're likely to move quite fast, especially if we get a big rebound from the week's action.
All the details, including video of the system in action, are at this link.
The last time we detailed this opportunity, readers flooded in and we eventually closed the door.
I expect that will happen again this time.
That's why you must click here now.
P.S. One of the trades this system could have identified is Electro Scientific Industries. If you'd have put 1,000 bucks into the stock after it fell below its lower limit… you could have banked $83,000 in just six trading days. That's a gain of 1,383% per day. Click here for all the details.
Andy Snyder
|

Founder

Andy Snyder is the founder of Manward Press, the nation's premier source of unfiltered, unorthodox views on money and what it means for a free society. An American author, investor and serial entrepreneur, Andy cut his teeth at an esteemed financial firm with nearly $100 billion in assets under management. Andy and his ideas have been featured on Fox News, on countless radio stations, and in numerous print and online outlets. He's been a keynote speaker and panelist at events all over the world, from four-star ballrooms to Senate hearing rooms. Today, Andy's dissident thoughts on life, liberty and investing can be found in his popular daily newsletter,  Manward Financial Digest. 
---