How to Open a Brokerage Account (and the One Online Brokerage to Avoid)
Opening a brokerage account has never been easier. It takes less than 15 minutes. And your options are more bountiful than ever.
So if you've never created a brokerage account, pay attention. We'll walk you through the entire process, from beginning to end… starting with everything you need to get the ball rolling.
For this example, we'll use Merrill Lynch. But the process and requirements are nearly identical at every popular broker – whether you sign up with E-Trade, Fidelity or Robinhood.
[Note: Manward Press has no ties with Merrill Lynch. This is not an endorsement of Merrill or its trading platform.]
What You Need to Get Started
­Opening a new brokerage account isn't all that different from opening a new bank account. Simply head to the broker's website and navigate to the page where you can open an individual investing account.
It shouldn't be hard to find. (In Merrill's case, there's a big red button right on the homepage that says, "Open An Account.")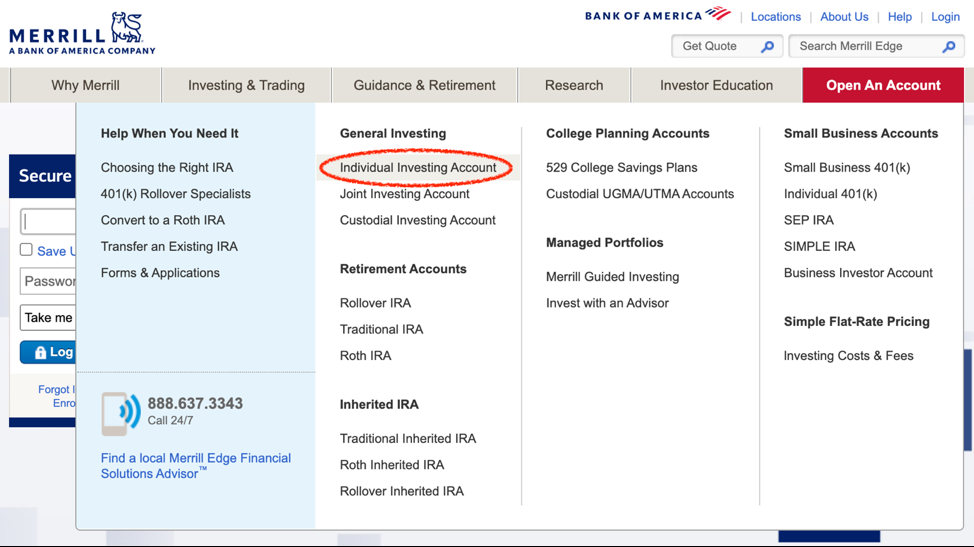 If you already have a relationship with the bank, you may have the option to link to your existing account. Otherwise, you can proceed as a new client.
But before you begin filling out the online form, make sure you have the following handy:
Social Security number
Date of birth
Mailing address
Email address
Employment information (if employed)
General financial information (your annual income, net worth, etc.).
With this information at your disposal, you should be good to get started. Merrill's application consists of just five steps, outlined at the top of the screenshot below.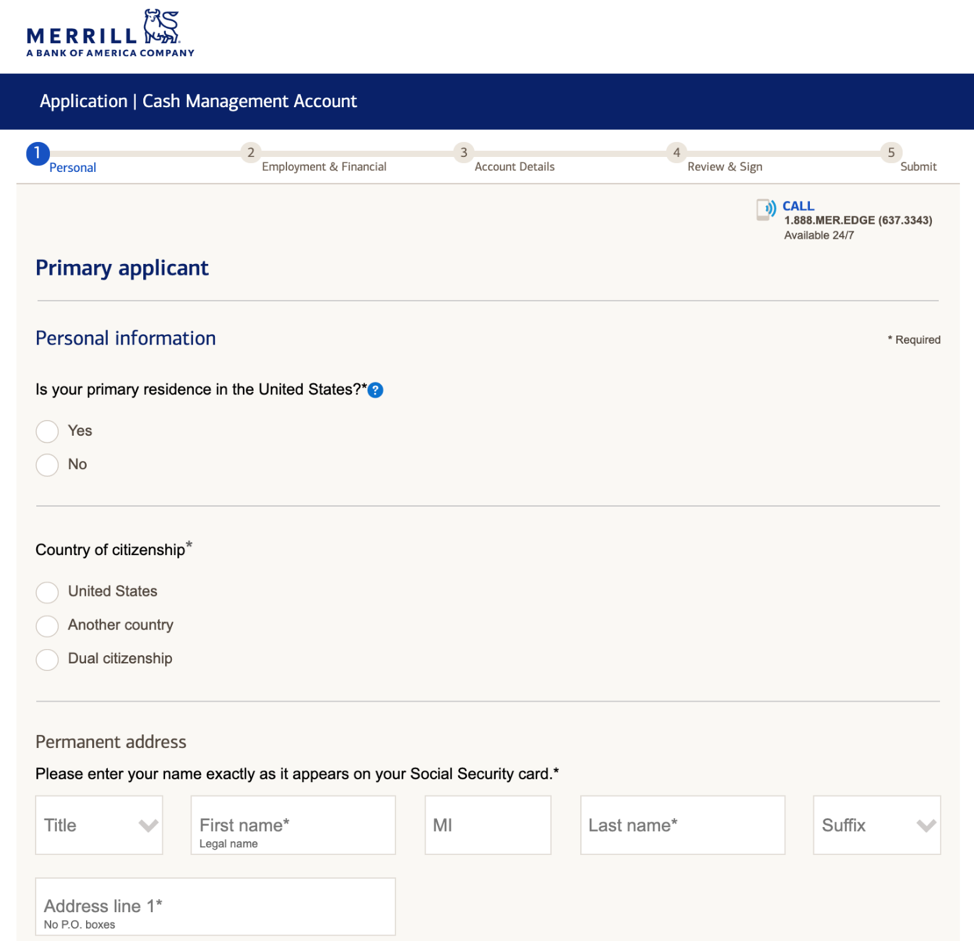 Throughout the process, you will be asked about your trading experience. This may include questions like, "Have you invested before? If so, when did you start?" and "What have you invested in? Stocks? Bonds? Mutual Funds? Options?"
Answer honestly. If you're a total newbie, say so. It will have no bearing on whether you're approved for a basic account.
You may also be asked whether you'd like to share your information with corporate issuers of securities you hold. In other words… would you like to be contacted directly by the businesses you're invested in?
The decision is up to you, but we personally prefer to keep our information to ourselves. And anyway, your broker is required to notify you of any key events involving your holdings – if a dividend's been paid, earnings are coming up or a shareholder meeting is scheduled.

You may be offered additional services (like a shiny new debit card) and features (like the ability to trade on margin). But if you're just getting started, we recommend sticking to the basics for now. You can always add features later, once you have a few trades under your belt.
With all of that information entered and reviewed, all that's left is to click "Submit." You should receive confirmation or approval of your new trading account shortly, if not immediately.
But… you're not quite done yet.
Funding Your Account
Before you make your first trade, you need to fund your account.
Makes sense, right? You've got to pay for those shares somehow.
To do this, you'll have to link your trading account to either a checking or savings account. These days, it's as simple as selecting your bank from a drop-down menu and logging in with your username and password.
And if your bank isn't listed, you might need to set things up the old-school way: Grab your checkbook and type in the account and routing numbers inside.
Either way, this crucial step shouldn't take more than a minute or two to complete.
Once your accounts are linked, you can set up a one-time transfer… or you can set up recurring transfers as a smart way to continually add to your investment portfolio.
There's no right or wrong choice. Go with whatever works for you and your needs. Just know that it usually takes a day or two – from when you first initiate the transfer – for funds to become available to invest.
But as soon as they are, you'll be off to the races.
Again… all told, establishing a new brokerage account shouldn't take more than 10 to 15 minutes of your time.
And that should be true no matter which platform you choose.
That reminds us…
Which platform should you choose? And perhaps more importantly… which shouldn't you choose?
The Best Broker for YOU
We'll address that first question simply…
It depends.
Are you planning to buy and hold? Do you intend to move in and out of trades frequently? Are you interested in trading options?
The answers to those questions will ultimately determine which platform is best for you.
For example, if you've placed a few trades and are looking for something a bit more robust, with ample options coverage and forex (foreign exchange) trading, TD Ameritrade might be your best bet. It's a leader in options trading and research.

And if you're brand new to investing, E-Trade might fit the bill better. E-Trade offers plenty of market research and educational resources built right into its platform… And like most brokerages these days, it does so without charging a trading commission on many investments. It's ideal for new investors.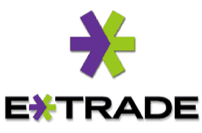 The good news is… you're not married to whichever option you choose. Just do your due diligence, try one out and see how it works for you. If you need to make a switch – as you've seen – it won't be hard to get started elsewhere.
Now… as for the No. 1 broker to stay away from…
The Broker New Investors Should Avoid
Allow us to preface this by saying that there is nothing wrong with Interactive Brokers. In fact, it's the largest electronic trading platform in the U.S.
It's a solid brokerage that offers cheap options trading, not to mention stocks, bonds, funds, futures, forex… you name it.

Interactive Brokers packs tons of value… for professional traders.
If you're looking for extra guidance in the form of research for beginners or educational tools, you won't find it here.
For the new or novice investor, the interface can be quite intimidating as well.
Want proof? Here's a screenshot…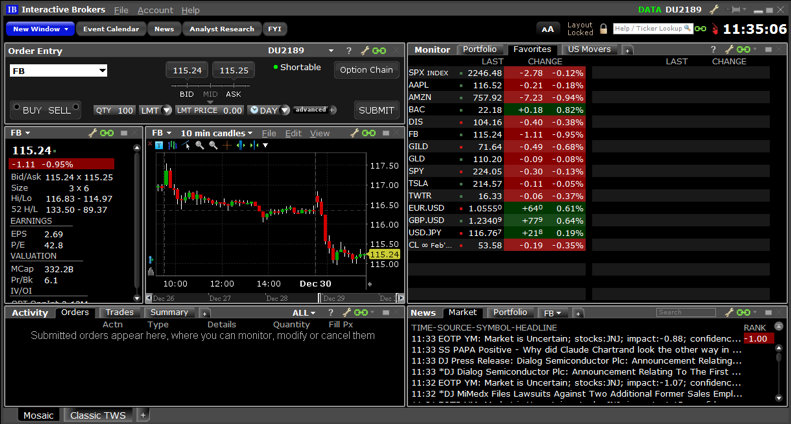 So unless you're a pro or a seasoned trader, we'd recommend you avoid Interactive Brokers… at least for now.
Remember: Our goal here isn't to leap headfirst into the most complicated types of investing…
It's to get started and learn how to invest right.
So follow the steps above and open your first brokerage account.
Just this simple act will put you well on your way to becoming a Super Trader.
Andy Snyder
Andy Snyder is an American author, investor and serial entrepreneur. He cut his teeth at an esteemed financial firm with nearly $100 billion in assets under management. Andy and his ideas have been featured on Fox News, on countless radio stations, and in numerous print and online outlets. He's been a keynote speaker and panelist at events all over the world, from four-star ballrooms to Capitol hearing rooms. 
---