Are You Profiting From the SPAC Bonanza?
If you think Tesla has been red-hot, wait until you hear about this battery maker's insane run of more than 600%… since November.
This company just hit the market, and its shares have flat-out exploded.
It's backed by Bill Gates, George Soros, Jeremy Grantham and even Volkswagen.
And it has a product that many think will revolutionize the auto industry.
But there's a problem…
Free-Money Fallout
We've written a lot about the notion of Dow 100K in recent weeks. It's the idea that thanks to the world's free-money, stimulus-for-all bonanza, stock prices will rise to the moon… regardless of any sense of true value.
That's what has happened with QuantumScape (QS).
In October, the company was virtually unknown. It's a small startup working on a unique battery idea.
But then a unique set of circumstances converged and lit its shares on fire.
It was like three old pals randomly meeting at a bar… and turning the night into the party of their lives.
The hangover is going to hurt.
The three pals in this case are 1) Tesla's monstrous run, 2) the special purpose acquisition company (SPAC) bonanza and 3) a dream roster of insiders.
And they're all drinking way too much of Uncle Sam's sense-numbing, free-money cocktail.
We'll start from the top…

Better Than Tesla
Tesla (TSLA), as you likely know, has had quite a year.
Last January, its shares sold for just $93. Now they're hovering around the $700 mark.
For the folks who dare to still care about things, the price leads to a monstrous price-to-sales ratio of about 15.
That's high. Very high.
Business school grads are taught to search for ratios below 1.
Everybody knows Tesla is expensive.
That's why "savvy" investors have scoured the market looking for "the next Tesla."
They think they've found it in QuantumScape – a company working on an EV battery that could significantly extend the range of vehicles and reduce the time it takes to charge them.
It's the industry's holy grail.
The only problem? It's still theoretical. It's tested the technology but hasn't proven the capabilities yet.
That leads us to catalyst No. 2… the SPAC bonanza.
SPACtacular
SPACs are some of Wall Street's hottest moneymakers these days.
As fans of free markets and deregulation, we love the idea of bringing a company to the market without the red tape and expense of a traditional IPO. With SPACs, small companies can go public simply by merging with a shell "blank check" firm doing business as a SPAC.
Many of these SPACs are run by some of the top minds in business. They are teams of financiers with a nose for good technology and a good deal.
They've brought a lot of hot businesses to the market this year… including DraftKings (DKNG) Virgin Galactic (SPCE) and another EV play, Fisker (FSR).
One of the hottest SPACs of the year has been Switchback Energy Acquisition Corp. (SBE). It recently announced it will bring the EV charging company ChargePoint to the market.
Its shares went from $10 in September to a high just pennies short of $50.
But nothing compares to the run we've seen from QuantumScape.
We'll get to that in a minute.
Before we do, it's important that you know how SPACs work. It takes us to idea No. 3 above – investing in people, not companies.
When an investor puts money into one of these "blank check" companies, they don't know what company they will ultimately own… if any. Instead, they're investing in the folks running the SPAC.
The more prominent and successful the managers, the more investor cash they will attract.
Right now, for instance, Bill Ackman's Pershing Square Tontine Holdings (PSTH) is getting quite a bid. It's raised more than $4 billion as the company aims to find a "mature unicorn" to bring to market.
That's why when investors caught wind that QuantumScape has a roster of backers like it does – including Tesla's former chief technology officer – they went all-in… and then some.
Shares of the SPAC behind the deal traded for about $15 for most of their pre-deal life. But once the announcement was made that the fund would use its cash to bring QuantumScape to market, prices soared – all the way to a high of more than $130.
At that price, the company was valued at close to $60 billion… giving it a market cap larger those of Ford (F) and General Motors (GM).
Now… this is a good time to remind you that both those massive companies actually sell things. General Motors is expected to see sales of $120 billion this year.
QuantumScape, on the other hand, has nothing to sell this year… or next year… or the next year… or the next year.
In fact, the company doesn't expect to have any appreciable sales until 2026 (midway through the next Trump administration?).
That means, going back to those pesky price-to-sales ratios, QuantumScape trades at the same outer space valuation as Tesla. But, in its case, the figures aren't based on next year's sales. Oh no… They're still six years out.
That's insane.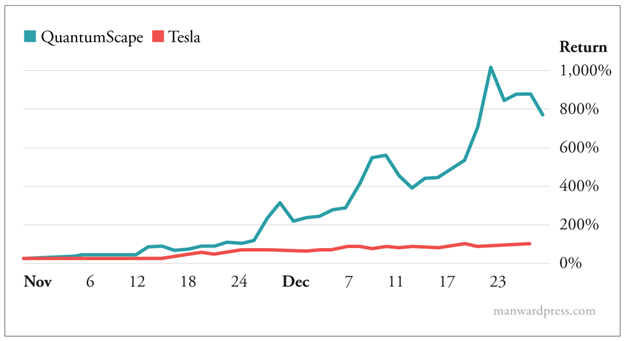 The price action makes Tesla look cheap… and that's really saying something.
More to Come
What's crazy about all of this is that we're convinced there's more to come… lots more.
The Federal Reserve has printed so much money and pushed interest rates so low that many of these funds merely need to stick their hat out to bring in billions of dollars.
But here's where we take a turn from the ordinary.
We're not making a bearish call.
Oh sure… avoid the overinflated. But don't avoid the many SPAC opportunities that are still out there and still to come.
This mess won't end well. But the end is a long way away.
We're living in the land of the irrational.
Rates aren't rising anytime soon. The free-money bonanza won't end tomorrow (Congress is still fighting to hand you even more free money). And valuations will continue to rise.
It will be a scary ride all the way up to Dow 100K. We don't see any other alternative but to go for the ride.
After all, funny money makes the price of everything go up.
What's your favorite tech stock? Any big wins recently? Let us know at mailbag@manwardpress.com.
Andy Snyder
|

Founder

Andy Snyder is the founder of Manward Press, the nation's premier source of unfiltered, unorthodox views on money and what it means for a free society. An American author, investor and serial entrepreneur, Andy cut his teeth at an esteemed financial firm with nearly $100 billion in assets under management. Andy and his ideas have been featured on Fox News, on countless radio stations, and in numerous print and online outlets. He's been a keynote speaker and panelist at events all over the world, from four-star ballrooms to Capitol hearing rooms. Today, Andy's dissident thoughts on life, liberty and investing can be found in his popular daily newsletter,  Manward Financial Digest. 
---