Three Undeniable Reasons to Buy Crypto Today
We recently made a big move in our Alpha Money Flow trading research service by adding a crypto portfolio.
It was the result of the recent boom in cryptocurrencies… the ideas behind our prized Modern Asset Portfolio… and a unique way of tracking buying and selling volume in the realm of digital money.
We've hit on some of the main ideas in these pages.
By now, the logic should be undeniable.
We see the boom in cryptos only gaining speed and strength from here for three key reasons – huge amounts of buying pressure, a lack of speculative alternatives and the death of the dollar.
Combined… all three make it clear that we're in the year of crypto.
Our goal is to make you see the idea as clear as the morning sun and show you exactly why we believe every investor needs to put a small portion of their portfolio in crypto (and not just Bitcoin).
A Buying Frenzy
We'll start with the buying pressure. We've hit on the subject a lot. Volume has long been our specialty.
Price action is worthless without seeing how many folks are willing to pay that price.
With crypto… volume has never been higher.
In fact, we've never seen a surge in demand like this from any other asset class. Hedge funds… pensions… even insurance companies are buying. The insurance giant MassMutual, for instance, just bought $100 million worth of Bitcoin.
And then there are the big boys of the realm… companies like PayPal (PYPL) and Square (SQ).
On their own, they've brought crypto from the shadows to the spotlight.
PayPal just brought crypto to its platform in November, and already it's trading hundreds of millions of dollars' worth of coins each day.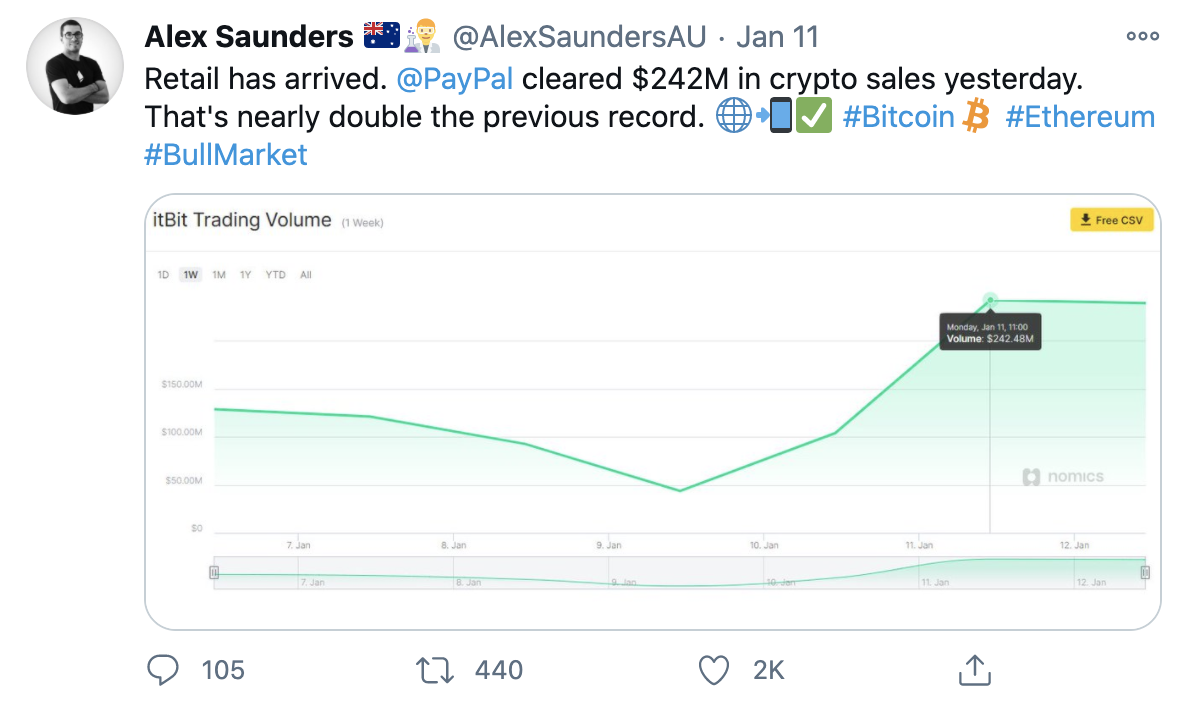 There's a tidal wave of cash flowing into the market.
And, moving to the second reason crypto is soaring, it makes perfect sense. There's nowhere else to put money.
A Flood of Money
The stock market is getting bubbly, bonds pay zilch and the world needs somewhere to stash all those trillions of freshly printed dollars.
We cannot overstate just how big of a factor this is.
It is no coincidence that crypto is soaring in a year when $12 trillion in government stimulus has been dumped out of helicopters across the globe. And more is on the way!
It's incredible.
The Federal Reserve's balance sheet (the nice way of saying the tally of fake money it has printed) will stand at 41% of the nation's GDP by the end of this year.
Half of it will have been printed in the last 12 months.
Insane.
Think of it this way… like a balloon.
The stock market balloon has been inflating for more than 12 years. More than a decade of stimulus and record-low rates has stretched the balloon quite tight. It's tight enough that it's keeping many folks from putting any more air in. (As you know, we think they're wrong.)
The real estate balloon is also tight… but it's constrained by the mortgage market and the number crunchers to keep things from getting overinflated.
But the crypto balloon? It was flat this time a year ago and still hardly has a breath's worth of air in it.
It has tremendous room to expand.
Dollar Days Are Done
And finally, the third reason we see crypto only gaining more value is the inevitable death of the dollar.
This angle fascinates us.
We read a report from a big bank last week that detailed how badly the world's central banks are losing the race to create their own sovereign forms of digital money.
Europe is in the hunt but is years behind.
Washington is still scratching its head about the idea. It'd rather invest in politics.
And China has already rolled it out and is paying folks to use it.
Meanwhile, the free market – led by the likes of PayPal and Square – is entrenching the role of digital money by accepting more and more of it each day.
We may soon pass the point of no return… where sovereign money becomes a second-class citizen.
The world has every reason to make the change. The political class is printing and spending money with a reckless abandonment of commonsense.
The free market is rushing to an alternative.
Crypto's value is only going to rise.
It is a speculator's dream come true.
Digital money has all the fundamentals of gold… with a moonshot upside that even the hottest stocks can't dream of.
Andy Snyder
Andy Snyder is an American author, investor and serial entrepreneur. He cut his teeth at an esteemed financial firm with nearly $100 billion in assets under management. Andy and his ideas have been featured on Fox News, on countless radio stations, and in numerous print and online outlets. He's been a keynote speaker and panelist at events all over the world, from four-star ballrooms to Capitol hearing rooms. 
---