Follow This Simple Rule Anytime You Invest
We said something last week we should say again.
Understand this concept and your odds of getting rich instantly go up.
Take advantage of it and, well, the sky is the limit… especially these days.
We've long said today's students should be forced to recite seven simple words before they receive their diplomas.
"Money goes where money is treated best."
It's such a simple idea and yet so few folks take advantage of its simplicity. The concept is like a GPS for a lost investor.
Let's look at gold, for instance. It's one of the hottest assets on the planet.
Last fall, we had a hunch it would soon be heating up. We told our readers to buy shares of the best gold miners.
The folks who followed our advice are now sitting on profits as high as 120% as gold closes in on all-time highs.
But why?
See above.
Money goes where money is treated best.

Where Ya Headed?
Let's say we're a business owner. We've got $500,000 to invest.
Our first thought goes to the business. We'd love to expand. We'd love to buy new equipment. But, then again, we're not sure the governor is going to keep things open. And besides, our customers aren't spending like they once were.
The return on our investment is not guaranteed. The odds of losing money are high.
We'll move on, for now… We'll find a place where our money is treated better.
How about the bank?
Ha.
It's a break-even venture, at best. It's a good place to find some safety, but with half a million in our pocket, we're above FDIC limits. There is risk. We'd have to spread it around. And still, we'd make nothing. We certainly won't keep up with the inflation that's hinting about a comeback.
How about bonds? They have a bit more risk but a better return. Are they worthy of our cash?
Nope, not these days.
Uncle Sam has pushed his rusty wheelbarrow right up to the auction block. He's shoveling in piles of sovereign and corporate notes. And the more he buys, the less they pay.
Yields today are now the rounding errors of payouts a generation ago.
Alright… then stocks.
Now we're getting somewhere.
The stock market is a strong choice. You know our thoughts on the subject. With all this free money floating around looking for a fresh home, valuations are getting tossed out the window.
Lots of folks with lots of cash are pushing money onto Wall Street.
Find the right stocks and you'll make good money.
But there's risk. You might buy the wrong stocks. Or China may blow the whole dang scheme up.
We'll dump part of our money in stocks, assuming it will be treated well.
But what about the rest… the part we want to protect from a risky economy?
You know where we're going with this. We're buying gold – the currency of currencies.
Everybody is.
Turn Fake Money Into Real Money
Gold is safe. It's a real form of wealth. And, with prices surging higher, the payback is far better than anything of equal risk.
So far in 2020, gold-backed ETFs have seen surging demand. They've increased their holdings of the metal by 28% – taking their total to more than 105 million ounces.
That's a lot. But it's still a total of only $195 billion… a mere fraction of the $3 trillion or so (who's really counting?) that the Federal Reserve has printed this year.
That's key. It's what so many investors are missing right now – that the trillions of dollars the Fed has printed must go somewhere.
Yes, a lot of it will patch the holes created by unpaid debt – but certainly not all of it. Combined, Bank of America, J.P. Morgan and Wells Fargo have set aside just $17 billion to cover defaults. It's a lot of money… but it's nowhere close to $3 trillion.
That's why many asset prices have nowhere to go but up.
The chart shows the potential.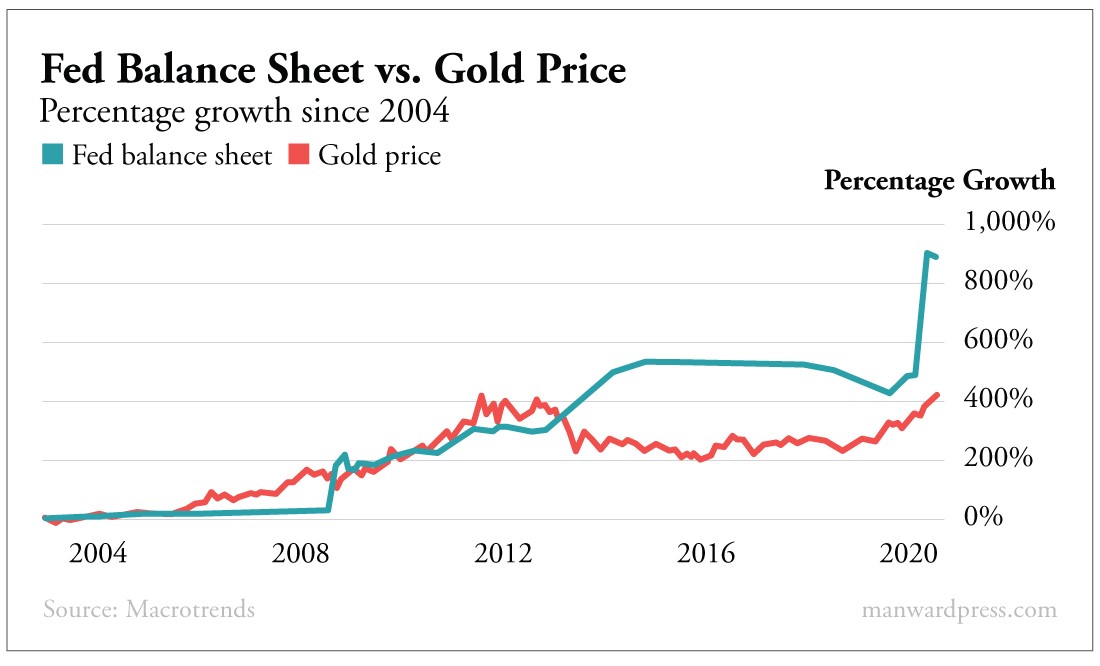 Again, money goes where it's treated best.
Like it or not, companies aren't going to invest in new factories and product development. The big ones (like Apple) will buy their own shares. They'll be the share price leaders in 2021.
They'll treat your money best.
After that… it's gold.
So if you want to get rich, write down those seven words. Recite them to yourself each time you're facing an investment decision.
Money goes where money is treated best.
Follow that rule… and you'll be treated very well.
P.S. Judy Shelton just got a key nod on her journey to becoming a Federal Reserve governor. "Gold help us" if the gold standard advocate gets a spot, The New York Times wrote last week. We love the news. It's great for gold. And it plays very well into a big moneymaking story we've been researching for months. Click here for that.
Have you made any gold investments this year? Tell us about them at mailbag@manwardpress.com.
Andy Snyder
Andy Snyder is an American author, investor and serial entrepreneur. He cut his teeth at an esteemed financial firm with nearly $100 billion in assets under management. Andy and his ideas have been featured on Fox News, on countless radio stations, and in numerous print and online outlets. He's been a keynote speaker and panelist at events all over the world, from four-star ballrooms to Capitol hearing rooms. 
---